Hedley & Co. recently presented Contemporary Artists Center a check for $1,000 for being one of the twenty $1,000 recipients of the company's year long charity giveaway.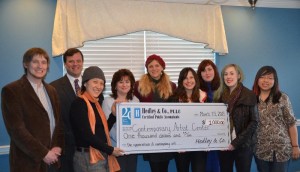 The Contemporary Artists Center, Woodside is a multi-purpose art organization originally founded in Massachusetts, and now operating in Troy, NY. For the last 20 years the CAC has presented and procured artists who want to produce, explore, test new concepts and expand the current debates and ideas in today's art and culture.
Through its artists' residencies, art studios, workshops, lectures, innovative exhibitions and performances the CAC has fostered the creation and appreciation of insightful and engaging contemporary art.
The CAC is committed to vigorous creative dialog, active community engagement and neighborhood revitalization through preservation, sustainability and the arts.
The CAC focuses on emerging contemporary artists.
Through its…
Artists' residencies
Art studios
Workshops
Lectures
Exhibitions
Performances
…the CAC promotes the creation & appreciation of contemporary art.
For more information please visit Contemporary Artists Center at www.cactroy.org
www.cactroy.org
Contemporary Artists Center joins prior $1,000 recipients in the Anniversary Project including Guilderhaven, Inc. , The Ballston Spa High School Robotics Team, Catholic Charities of Albany, Whiskers Animal Benevolent League, The Arongen PTA, The Prevention Council, The Saratoga City Ballet, Grassroot Givers, The Salvation Army Saratoga, Dance Crazy Kids, The Starlight Children's Foundation, The Rottie Empire Rescue, Juvenile Diabetes Foundation of Northeastern New York, The Epilepsy Foundation of Northeastern New York, Shenendehowa Softball Booster Club, Friends of Camp Little Notch, Joan Nicole Prince Home in Schenectady, and The Capital District Humane Association.
About the 20th Anniversary Donation Program
As our 20th Anniversary Donation Program, and celebration of serving the community for 20 years comes to a close, we would like to thank all of you who helped make our charity giveaway a success! The votes by the community members helped us in choosing the various charities to give back to, and made for a brighter day for the recipients. We are very pleased to have been part of such a rewarding program, and again congratulate all of our winners.