Hedley & Co. recently wrapped up the firm's 20th anniversary celebration by presenting Shellstrong Foundation the final $1,000 check in the Firm's yearlong anniversary giveaway.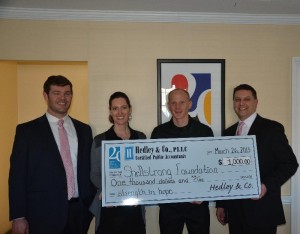 Burnt Hills residents Matt and Kim Shell created the SHELLSTRONG Foundation in 2011. The Shell's son, Jacob, was diagnosed at age 8 with Stage 4 Neuroblastoma, a rare form of childhood cancer. Today, Jacob is cancer-free.
The foundation supports campers at the Double H Hole in the Woods Ranch in Lake Luzerne, children being treated for cancer at The Melodies Center at Albany Medical Center and students within the Burnt Hills-Ballston Lake community.
For additional information on SHELLSTRONG Foundation, go to www.shellstrongfoundation.org
Shellstrong Foundation joins prior $1,000 recipients in the Anniversary Project including:
Contemporary Artists Center, Guilderhaven, Inc., The Ballston Spa High School Robotics Team, Catholic Charities of Albany, Whiskers Animal Benevolent League, The Arongen PTA, The Prevention Council, The Saratoga City Ballet, Grassroot Givers, The Salvation Army Saratoga, Dance Crazy Kids, The Starlight Children's Foundation, The Rottie Empire Rescue, Juvenile Diabetes Foundation of Northeastern New York, The Epilepsy Foundation of Northeastern New York, Shenendehowa Softball Booster Club, Friends of Camp Little Notch, Joan Nicole Prince Home in Schenectady, and The Capital District Humane Association.
As our 20th Anniversary Donation Program and celebration of serving the community for 20 years comes to a close, we would like to thank all of you who helped make our charity giveaway a success! The votes by the community members helped us in choosing the various charities to give back to and made for a brighter day for the recipients. We are very pleased to have been part of such a rewarding program, and again congratulate all of our winners over the past year.