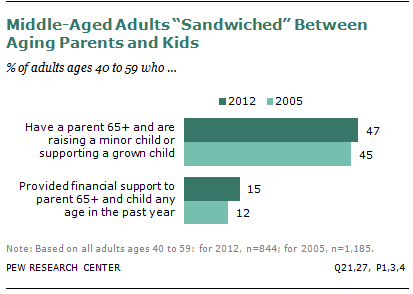 MORE MIDDLE-AGE AMERICANS find themselves taking care of adult children rather than aging parents.
A survey from the Pew Research Center found that 48% of adults between the ages of 40 and 59 provided financial support to at least one grown child in 2012, up from 42% in 2005. Only 21% provided financial support to a parent age 65 or older in 2012, up from 19% in 2005.
According to the Pew Research Center, just over 1 of every 8 Americans aged 40 to 60 is both raising a child and caring for a parent, in addition to between 7 to 10 million adults caring for their aging parents from a long distance. US Census Bureau statistics indicate that the number of older Americans aged 65 or older will double by the year 2030, to over 70 million  Wikipedia
Part of the key is handling this financial stress is to plan ahead.  Contact Hedley & Co. CPA's, we're here to help.